A few nights ago, I saw the movie Rango. It probably seems like a bit of a stretch to write about this movie in a Halloween themed blog, but there were actually a lot of scary parts in it. That and I wanted to recommend this to someone, so here's a way to recommend it to 46 of you at once! :)
I'm almost not sure how to explain Rango. If you watch the trailer, it looks like a standard slapstick movie without much of a plot. That's why I didn't post the trailer here. If you watch the entire movie and not just the few dumb parts they stuck in the trailer, you'll be surprised by how complex the plot is.
I'm not really sure what the intended audience for Rango was. It seemed more directed to adults than kids, and to really specific adults at that! There were Hunter S. Thompson references, Clint Eastwood references, bits about Las Vegas draining all the water away, spiritual life after death thoughts, general "Who am I?" questions, and Los Lobos as singing owls.
Johnny Depp voices the main lizard character, Rango. It was fun to imagine him saying some of his lines. For some reason his voice was reminding me of Kermit the Frog. Bill Nighy voices "Rattlesnake Jake" who is pictured below. I had to include some pictures of him, so there's something scary in this blog entry. :)
The snake's movements are actually pretty freaky. He also has a gun as a rattler. Look at those fangs!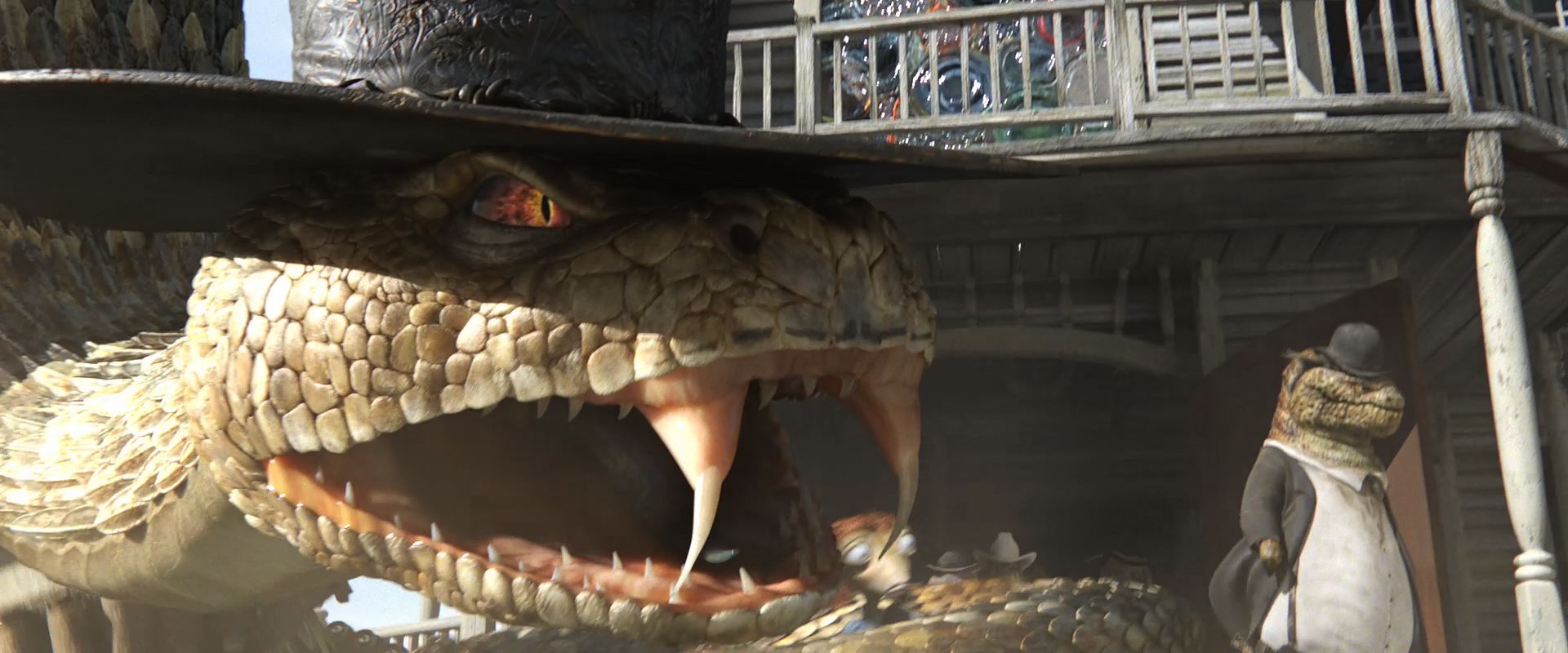 Rattlesnake Jake isn't the only spooky thing in this movie. There are also walking cacti that come alive to look for water. Their glowing faces appear behind, well whatever dry plant stuff they're made of. I really tried to find a picture of those to share, but I couldn't!
I found a surprising amount of Rattlesnake Jake tribute videos on YouTube! Most of them have really bad metal playing in the background and are taped off TV, but I managed to find one I like! This one does have Insane Clown Posse playing on it, but the music fits and I like how this clip shows the snake's creepy movements.
P.S. ~ I just read an article this morning (Friday now) about some real life snake drama. This is just ewww:
Snake House