Last night, I finally got around to watching
The Woman in Black
. I say finally, because I'm not sure what took me so long! I'm a fan of
Hammer
movies and haunted house movies in general. That and nearly everyone I chat with online has recommended it to me!
Now that I've finally seen the movie, I'd like to discuss it with all of you who probably saw it awhile back. I'll also share an interview and a behind the scenes video. For anyone who hasn't seen
The Woman in Black
, I don't want to spoil anything. So I won't go into specific plot details. Here are the basics: Arthur Kipps (Daniel Radcliffe) is a young widowed father who works as a lawyer. He is required to take care of some last minute estate business at a creepy haunted mansion that happens to be in the world's most unfriendly town. It turns out that the townspeople have good reason to be miserable, but they're still pretty awful. I was wondering if the inevitable ghost would be as bad as the townsfolk!
Of course the ghost is unpleasant. I won't be giving much away by saying that she is a woman in black. She wears what might be described as Victorian mourning clothing, which keeps her pretty obscured and mysterious throughout the film. You only ever see a hint of her face. Overall, I liked how subtle the movie was. The ghost provides little hints of movement out of the corner of your eye or bits of shadows passing a mirror. Seriously, this movie is only for people with good eyesight.
So many modern horror movies throw violence and loud noises at the viewer, so the subtle moments were refreshing. I remember writing
my Halloween blog post last October
, which was filled with subtle things that terrify me. I came to realize that shadowy hands reaching out of the darkness or narrative songs didn't do as much for everyone. So I understand that different things scare different people.
Daniel Radcliffe did a great job, especially considering that he was the only person in many of the scenes and had to use his own imagination to be afraid. He reacted the way most people would in response to noises and shadows, except for when he followed them. I don't think my first impulse to hearing a loud noise in a dark house would be to go upstairs and check it out. Although, a movie about a person who just sat downstairs in denial while all Hell broke loose upstairs, would not be very exciting.
Speaking of denial, I'm reminded of the "Daily" character played by Ciaran Hinds, one of the few nice acting people in the unfriendly town. Daily had as many reasons to be unfriendly and afraid as anyone else in this movie, but his denial of the supernatural is basically what held him together.
Under the scares, there are some interesting messages in
The Woman in Black
. I was left thinking about how the different characters dealt with loss and the many forms those feelings can take. I thought about how the belief in the paranormal and the afterlife can change a person's actions. I also wondered about the ghost's motivations.
The Woman in Black
was probably more sad than scary for me overall, but as I said before, there was some serious tension brewing!
The scenery in this movie was pure Hammer. The old house was beautifully decayed, with layers of funk over the old jewel toned walls. Thick fog covered the trees and crooked grave markers in front of the house.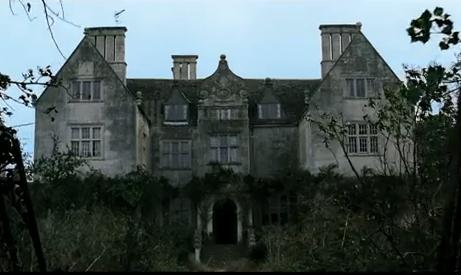 The movie was incredibly classy looking, aside from what I felt was one cheap trick thrown in near the end. I thought the ghost should be presented differently, when we finally get to see her up close.
For those who have seen this movie, do you think the ending was happy, sad, or both? It felt kind of bittersweet to me, but I did have a sense of closure with the ghost.
Here are those extra bits I mentioned earlier. I ran into an interview with the author of
The Woman in Black
and the screenwriter of the movie.
Touched by evil: Susan Hill and Jane Goldman on what inspired The Woman in Black.
There are some really interesting parts in that interview about the inspiration for the story, revenge, and sympathy for the ghost. I felt some sympathy for the ghost too, even while finding what she was doing despicable.
I thought this was a nice little behind the scenes video with a few interview clips:
For those who would like to relive some of the scarier parts of the movie, here's a series of video clips from
The Woman in Black
:
If you haven't seen this movie I recommend it, and if you have seen it, let me know what you thought of it!
One more thing! It would be fun to connect with those of you who use Tumblr. I just started a page there as a place to store some of my favorite images. I know some people use the site as a blog, but my page is more of a gallery with no words. You can find my Tumblr page here:
Justine's Halloween Tumblr Page
or you can always click on these eyes on the side of my blog: