Some of you may remember this caramel apple from my
Halloween blog party
a few weeks ago. Although it was served as a virtual snack, I actually made this at a "caramel apple bar" days earlier. Every year, my mom and I take part in the tradition of going out to the country and making custom caramel apples. This year we went to the
Elegant Farmer
in
Mukwonago, WI
.
As you drive up to the Elegant Farmer, you are greeted by the smiley face barn. There are lots of treats for sale inside the barn. There are plenty of pies, as well as cookies, cheeses, and frozen fruits.
Next to the barn is the tent where caramel apples are made. You start by choosing the type of apple you want.
Then you bring it over to a guy who either cuts it up or sticks a stick in it. The guy then dips the apple in hot caramel and hands it to you to decorate. You can roll the apple in peanuts and various jimmies. The caramel dries quite fast, so I was desperately rolling my apple in anything that would stick to it!
I wasn't trying to be a massive Packers fan with those green and gold jimmies - those are just the ones that would stay on!
Further fun ensued when I tried to eat the apple and got my hands all sticky. For some reason, the caramel wouldn't stick to the jimmies and peanuts, but it really stuck to me! I ended up with hay covered hands, from touching my caramel covered hands to the hay bale I was sitting on. Ah, the challenges of eating a caramel apple...
We discovered an old train caboose behind the barn. The paint was peeling off parts of it. I know that some of you are into old, abandoned buildings and machines, so I'm including a few photos of it:
The worn down lettering spells "The Milwaukee Road"
There was also a working train for the kids to ride:
Back to the apples... Lately, I've been discussing caramel apples with my blog friends who live outside of America. It turns out that candy/toffee apples are more likely to be found in other countries, than caramel apples. Candy apples are associated with celebrations and holidays in Europe and South America, the way caramel apples are associated with Autumn and Halloween in The United States.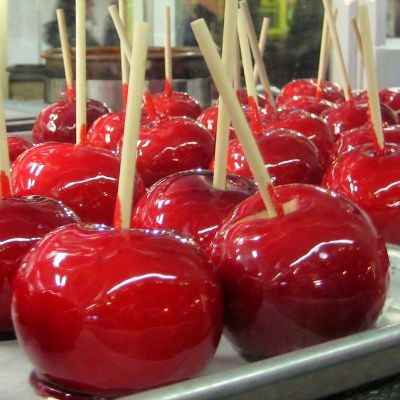 One of these holidays is Guy Fawkes Day. I hadn't heard of
Guy Fawkes
until researching candy apples a week ago. Imagine my surprise to hear him referenced again and again this past weekend! One of my blog friends wrote a descriptive blog post about Guy Fawkes. This will teach you a little about him and the November 5th holiday:
Voodoo Ghoul's
Bonfire Night
Guy Fawkes
I always thought that candy apples were pretty, but I'm afraid of breaking a tooth on one! Maybe the coating isn't as hard as it looks. So, I have to ask those of you who have tried a candy apple, are they good? They probably aren't as messy as caramel apples!