Last weekend I watched "The Birds" for the first time. I can see why this movie is a classic! Hitchcock took something so everyday as a flock of birds and made me think of them as little murderers! I think the most frightening things are the believable ones, and a flock of crazed birds is much more believable to me than a classic movie monster.
Tippi Hedren runs from some crazy crows
I ran across this awesome Barbie version of Tippi Hedren - complete with birds! It's pretty funny because some of the people I watched this movie with commented that Tippi looked like a Barbie doll!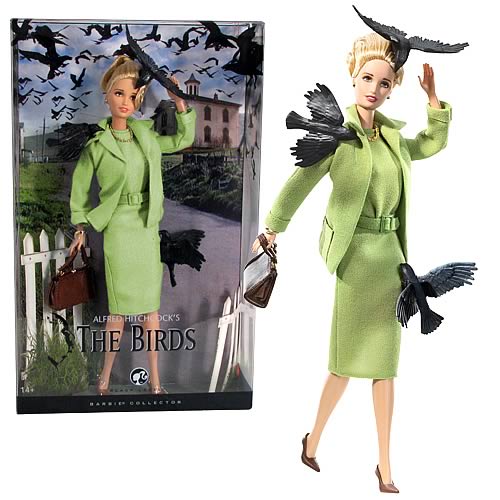 I wanted to learn more about this movie, so I googled "Trivia from The Birds" to find a little info...Turns out there is a lot of info! So here are a few of my favorite pieces of trivia:
1.) Tippi Hedren's daughter is Melanie Griffith!
2.) Tippi wore six identical green outfits through the filming since her clothing got so beat up (on account of those killer birds scratching at her).
3.)
To get the seagulls to fly into the camera, ground beef was put on top of the lens and the gulls would swoop in to eat it.
4.)
Most of the birds used in the long shots of the birds perching were cardboard cutouts or stuffed birds. Live birds were interspersed with the fake birds to give the scene some movement and make the fake birds look alive.
5.)
Suzanne Pleshette who plays the school teacher in The Birds, would go on to play Bob's wife on The Bob Newhart Show.
6.) This film had an all electronic soundtrack. (Meaning an all synthesised sound with no real instruments).
7.) In real life, on August 18th of 1961, residents in the town of Capitola, California, awoke to find Sooty Shearwater birds (similar to Sea Gulls) slamming into their rooftops. Their streets were covered with dead birds. News reports suggested shellfish poisoning as the cause. According to a local newspaper, the Santa Cruz Sentinel, Alfred Hitchcock requested news copy in 1961 to use as "research material for his latest thriller".
The following video clip, in my opinion, is the most eerie part of this movie! I think what makes me feel so uneasy is the tension being built up gradually.