In response to
my review of The Devil and Daniel Webster
, I received a great movie recommendation from
Mantan Calaveras
. His suggestion was
The Night of the Hunter
, another Depression era story about good and evil. After watching the movie, I can see why he recommended it to me! I had a similar feeling after watching this as I did after watching
The Devil and Daniel Webster
. I thought of it as a classic and wondered why I hadn't heard of it before now.
The Night of the Hunter
is a beautifully shot, eerie movie. If you are into that black and white, shadowy Hitchcock style of filming, you are sure to appreciate this. Even scenes that should feel morbid feel like a work of art. I learned on the DVD commentary that they were going for a German Expressionist look at some points and I can see that. There were moments that were heavy on the shadows and surreal, like a dream sequence. There are slight exaggerations in the visuals and heavy symbolism.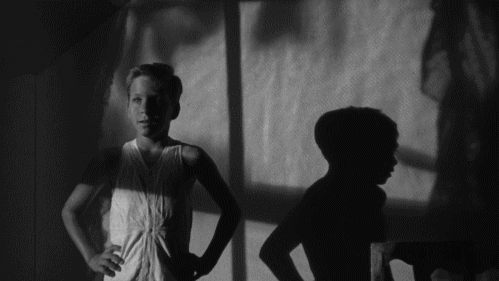 Although I'm anxious to go through the entire plot and give all my opinions, I'm going to attempt to not spoil too much of the movie. You're sure to be on pins and needles while watching parts of this and I'd hate to ruin that by giving away any spoilers. So I'll give you a brief outline and tell you a little about the characters.
The movie opens with a beautiful country scene. Children are playing hide and seek in a field. The scene is shot from above, so you get an idea of how spacious and remote the area is. A little boy goes to hide in an open cellar. He looks in the door and sees a woman's legs laying on the ground. With this brief subtle moment, we see a killer has come through the area. We soon get an idea of who this killer is with the help of his monologues to "God". This killer poses as a preacher named Harry Powell. Harry reveals to the viewer that God always provides for him by bringing him in contact with women who have money - women that he kills.
This serial killer presumably travels through the countryside, kills vulnerable women, and moves on to con the next town. Robert Mitchum plays the psychopathic fake preacher with total snake oil salesman charm. He's perfect. At some moments he reminded me of those over the top TV evangelists in the 80s. Harry has tattoos across his knuckles. One hand spells "LOVE" and the other "HATE". He will sometimes try to explain/preach to people in a cheeseball way about the meaning of these words. Unfortunately, we see a lot more action from the hate hand than the love hand.

Meanwhile, while Harry is trolling for his next victim, a man (Peter Graves) hurries home and finds his young son in the yard. The man has just stolen $10,000 from a bank and killed two people in the process. He frantically hides the money, telling his son the location. He makes his son promise not to tell anyone where the money is, not even the boy's mother. This ends up making a lot of sense, as the boy's mom is a bit simpleminded.
Peter Graves and Billy Chapin. This little boy did an amazing job in his role.
Soon after the boy promises to keep the money hidden and take of his little sister, his father is arrested on the lawn. He is taken to prison, where he waits to be hanged. While in prison, who should he end up bunking with, but Harry the psycho "preacher" who has been jailed for car theft. Harry tries to get the location of the money from his new bunk mate, but it's not going to happen. After Harry is released he decides he will get his hands on the $10,000 in the way he knows best - by charming the thief's widow.
The widow is Willa, played by Shelley Winters. Willa is sweet but easily coerced. She's also in the traumatized and vulnerable position of having just lost her husband to an execution and in care of two small children. She is a perfect target for a man like Harry. Sadly, a lot of women would be. He is attractive and charming. I remember reading a true crime book with a story about a modern man who married multiple women and kept killing them for the giant life insurance policies he'd take out on them. (The story was in
A Rose For Her Grave
by Ann Rule, for anyone who is interested.) He'd always target newly divorced or widowed women with kids. This could work for a number of reasons. Add in that
The Night of the Hunter
takes place during The Depression, and you have an even higher level of desperation for these women. This desperation might give them reason to overlook a few things about a handsome man who comes to town.
Poor Willa. She's in a constant state of worn out worry through this entire movie.

Willa marries Harry on what feels like the day after she met him! Immediately, she sees his dark side. This guy doesn't even pretend to be nice for a few days. As soon as he gets what he wants from people, Harry is done with them. It's hard to watch Willa's married scenes with him. It's like watching the process of abuse and brainwashing. The more cruel Harry is to her, the more Willa tries to please him. She is in firm denial of his many faults and only blames herself for his problems. She's even in denial when her son tells her that Harry is pressing him for information on where the $10,000 is hidden.
Eventually, even poor oppressed Willa can't deny that Harry is only in this marriage for the $10,000. She overhears him threatening her little girl in hopes of getting the money. This is where I'm going to stop giving too many details. You can probably guess where things are going for Willa.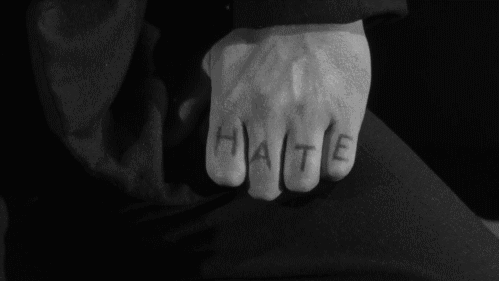 Willa's children end up on the run from Harry, hence the title "Night of the Hunter". During their journey, you will see many beautiful images of nature. Rabbits and frogs take on a magic quality. It's like a child's dream, or at least a break from reality. The children run across many other children who are starving and roaming the countryside alone. I'm going to assume this was someone's accurate view of The Depression. I knew times were bleak, and many kids ended up in orphanages or other people's care, but I didn't know this many were wandering alone in the wilderness.
The two children have the infinite luck of being found by a farm woman, played by Lillian Gish. This woman acts the way any of us could hope to act in a tough situation. She has a quiet strength about her. I can't imagine anyone else in the role. She is described in the DVD commentary as a guardian angel, and I think that's about right. A caring but tough angel.
One of the things I loved most about her character is the way she sees through the fakery of the "preacher". When he feeds her the same phoney lines and con man routine that we've seen work on other people, she just casts him a look like "Don't give me that B.S." I loved it.

The movie ends up being a pretty clear-cut good vs. evil story. Some people have described it as a dark fairytale. I was left haunted by some of the scenes. They were just that convincing! I think many of you would enjoy watching this movie. It is dark, but it's also beautiful to watch, and surprisingly funny at times.