I don't usually blog about movies, but I saw one last weekend that I'd like to discuss. The movie was
Island of Lost Souls
, and it made a real impression on me. Island of Lost Souls came out in 1932 and was based off the
H.G. Wells
story
The Island of Doctor Moreau
. There have been several newer movies based off of that story, but I've never seen those. I also haven't read the original story. All I knew going into this movie was that there was an evil doctor who experimented on people to turn them into human-animal hybrids.
I tend to cut older movies a lot of slack. If I'm watching a B-movie from the 1950s or 60s, I'm probably going to enjoy laughing at the cheesy props and acting. If I saw the same thing in a modern movie, I'd criticize it! So, in going with that theme, I give movies from the 1920s or 30s even more slack! I didn't need to this time, though. The acting was really believable, the makeup was creepy by modern standards, and it was filmed really well. OK, Lota the Panther Woman was a little goofy to me, but that's about it!
It's not her fault, that role was just goofy. She did as well as I think anyone could have in the part, and she was probably a big selling point for the movie. An interesting piece of trivia is that the actress who played Lota was a dental hygienist when she was cast. Lota wasn't much of a panther, aside from
her claws
. The other human-animal hybrids on the island were a lot more obvious! Do you recognize this one?
Those are Bela Lugosi's recognizable eyes under all that fur!
The Doctor Moreau character was somewhat Hitler-esque. I'm not sure if that's what the filmmakers were going for, since Hitler wouldn't have been a big part of American pop culture in 1932. He wasn't even Chancellor until 1933. Maybe there's just an evil mustache coincidence going on!
Charles Laughton said he hated his role as Moreau, and I can see why! The mustache wasn't the only thing his character had in common with Hitler. This Doctor Moreau was completely heartless. Funny enough, Laughton based his Moreau characterization on his dentist! (If you're basing an evil, sadistic role on your dentist, I think it's time to find a new dentist.) I heard that H.G. Wells was not at all a fan of this movie, because the Doctor Moreau in his story had been more of an obsessed scientist than a sadist. He also didn't like the horror aspect of the movie.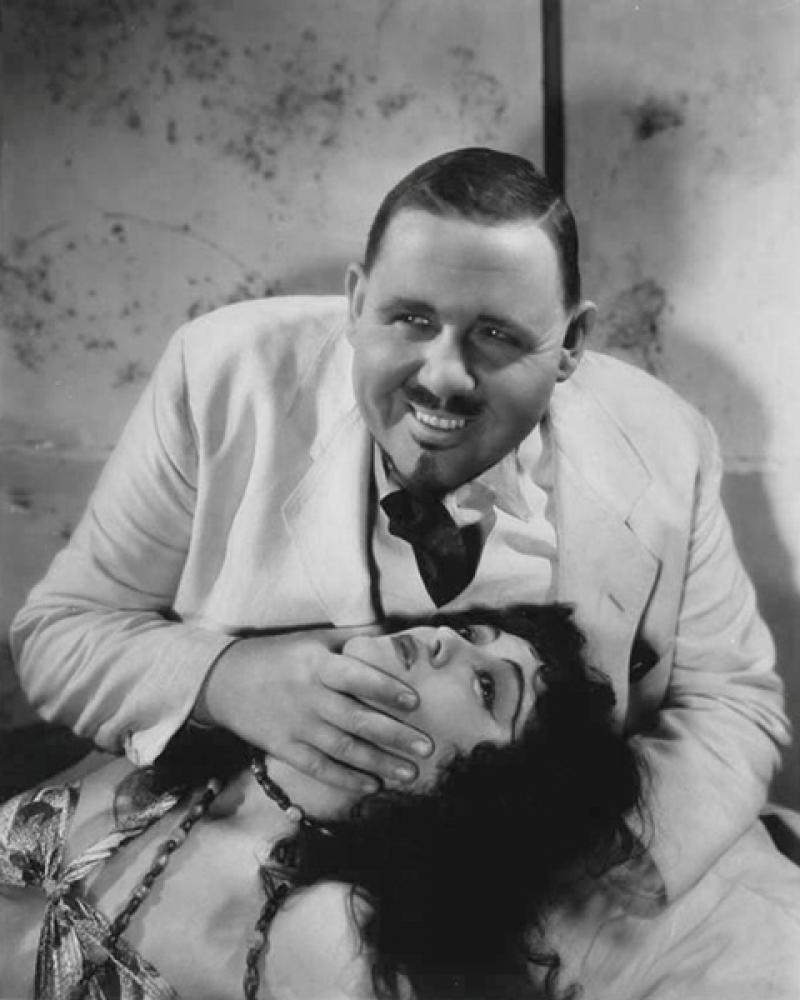 As I wrote earlier, the plot is basically about the evil Doctor Moreau, his "experiments", and the unfortunate people who discover what's happening on that island. I'm not going to get further into describing the movie's plot, because I don't want to give much away. Island of Lost Souls is worth watching, so I won't spoil it for you. Instead, I wanted to write more about how the movie was received when it came out.
In some places, this movie was not at all well received. In fact it was banned in Germany, Great Britain, Holland, Hungary, India, Italy, Latvia, the Netherlands, New Zealand, Singapore, South Africa, Tasmania, and some Midwestern states in the United States. The thought was that this movie showed too many unnatural alterations to nature. That and some people didn't like that Moreau talked about feeling like God. I suspect the censors feared that some crazed, experimental person might actually try some of what's in this movie. That's amazing to think about today, with what we see in modern movies. This once banned movie is now rated only PG on the uncut DVD!
I watched Island of Lost Souls on the
Svengoolie
show. (Thanks for the head's up
Bob
!) If you're not familiar with Svengoolie, he's a horror movie host who presents some funny material spliced between scenes of movies. Here's Sven's intro to Island of Lost Souls:
It turns out that the Blondie song "Island of Lost Souls" got its name from this movie! The video is creepy in its own way, but doesn't have much to do with its movie namesake. Debbie Harry is having fun partly as a Druid (I think) and partly as a Calypso dancer. The creepy part comes in with those masked band members.
I always loved that Blondie song. I'll keep loving it, but I'll probably think of it in a different way now.
If you would like to see Island of Lost Souls in its entirety, here it is:
Those who have seen the movie might be interested in this page of trivia:
IMDb Island of Lost Souls trivia
This is fascinating too:
10 Things I learned: Island of Lost Souls
So, I'm curious to know what you think about something. Do you think Island of Lost Souls should have been banned? I mean, if a controversial movie might give troubled people ideas about how to cause damage, should the information not be shared? Or is banning any dangerous plot line just stifling people's creativity? I was shocked at the banning of Island of Lost Souls, but then this movie did come out 80 years ago. A lot has changed in that time!