Now that February has arrived and Valentine's Day is fast approaching, I've got roses and floral arrangements on my mind. Since this is a Halloween themed blog, this post will be centered around flowers with a Gothic look. Of course, the no muss, no fuss way to a Gothic bouquet is to simply chop the roses off their stems, like Morticia Addams is known to do. As much as I love the Morticia character, it always drove me nuts when she did this. I wonder what was done with all the cut off roses?
If you'd like to arrange some actual roses (that still have their heads) there are plenty of Gothic varieties. I first saw "black roses" in a gardening catalog last summer. They're not truly black, but more of a dark red. No one has managed to grow a true black rose yet. The rose below is called
Black Magic
and it's a hybrid between the
Dallas
rose and the
Red Velvet
rose
.
The
Black Magic
rose has a very velvet-like look. From what I've read, these are scentless.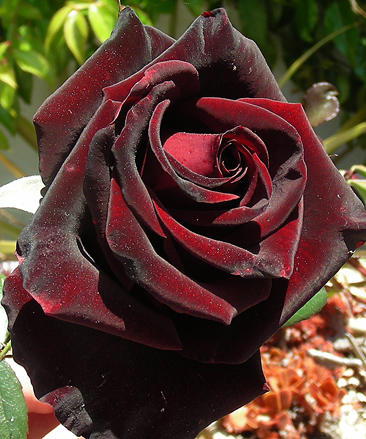 Another beautiful variety of rose is called
Black Jade.
It's a dark red mini rose.
The next rose is really spectacular! It's called
The Black Beauty.
The black and red patterns give it almost a tie-dyed look. Evidently, the rose appears black at first, but opens into a scarlet red color.
I did find a how-to article about "growing" black roses, but it isn't about creating a black rose, so much as pouring black dye into the soil.
I'd be curious to know how well this works:
How to Grow Black Roses
Then again, you can also dye cut roses you've bought from the store. I'm sure many of you have tried this old trick with white carnations. Basically, you add food coloring to a vase of water and the flower's stems soak it up. In the following article it is suggested that you use black dye, or ink!
How to Dye Roses Black
I think that it would be a smart idea to use a glass vase and not an unglazed ceramic vase for this. Or you could end up with a new blackened vase! Another bit of advice, don't let your newly dyed flowers touch anything. I've had dyed flower petals go on to dye the wall, kitchen counter, and anything else they're able to touch.
Black roses can symbolize death or the end of a relationship, so you might want to stick with the red ones for Valentine's Day!
One of the few actual black flowers is the
Black Calla Lily
. It gets added Goth points for being poisonous.
Calla Lily poisoning
does not sound fun, so keep the flowers away from your pets! I'm assuming that most humans don't chew on Calla Lilies...
Strangely, Calla Lilies are associated with both weddings and funerals.
They're associated with weddings, as a symbol of purity. They're associated with funerals as a symbol of rebirth.
Another possible addition to a Gothic bouquet is the black tulip. I've seen some really dark purple tulips in a local park, but I don't think I've ever seen a black tulip in person. The ones I've seen online look so glossy! This one is called The Queen of the Night tulip:
Isn't that gorgeous? I remember seeing
The Queen of the Night
in a gardening catalog, so I don't think it's too rare. Some pictures of it look pure black, while others look dark purple when light shines through the petals.
I found multiple meanings for black tulips. Some people say they symbolize power and strength. Other people say these are given with a goodbye. Some people use it in arrangements that honor a person who has passed away.
In its connection to the story
A Black Tulip
, by
Alexandre Dumas
the flower symbolizes the strongest love that can exist between two people. The story involves a relationship that cannot be stopped, no matter how many characters try to step in the way of it.

If you'd like to keep your floral arrangement year round, you can always take the silk flower route. This quick tutorial shows how to make a Gothic floral display using only Dollar Tree tulips and a black marker!

Can you believe how cool those ended up? I liked how glossy the stems were. I bet this technique would look great with bright orange silk flowers. Those would make an awesome centerpiece for Halloween! Of course, the shiny black stems would look sharp with red roses for a Valentine's Day bouquet with a little edge.
In other Valentine's Day news, my blog buddy Holly is organizing a blog event for February 14th. All you have to do to participate is sign up, post a badge on your blog, and write a vampire themed blog post. Vampires are probably the most romantic of supernatural creatures, so they make a fitting theme for Valentine's Day! If you're interested in being a part of this, you can visit her blog here:
Valentine's Day Event at Holly's Horror Land
P.S. ~ I ran into a collection of plant photos you won't believe! They're all very spooky and exotic. Check out the "Dead Man's Fingers" fungus! Here they are:
Spooky Plant Photos
Have any of you actually seen any of these plants in person?