Before last week, I had never watched a Hammer Horror movie. Meaning, that I had strangely never seen Christopher Lee in the role of Dracula. I know his version of Dracula is a classic and I really meant to get around to watching him at some point. I just hadn't. As you know, I liked Christopher Lee in his role as Willy Wonka's father in
Charlie and the Chocolate Factory
. I also liked him as
Saruman
in
The Lord of the Rings
trilogy.
So, I had only watched an older Christopher Lee in movies. It was interesting to see him as a younger actor, playing Dracula. He had some very graceful moves, which were accentuated by that huge cape. From just watching him on the screen, I could tell he was tall and had a strong presence. At times, a commanding presence. His Dracula was able to control people with just one look. You can see him work his magic on the ladies in this video, which is set to some nice Tango music midway through:
To return to where I began, I'm pretty new to Hammer's version of Dracula. The reason that I'm up to date now is that my Mom gave me a 4 DVD set of Hammer's Dracula movies for Christmas. I'm not usually one to watch a lot of movies, but I was sick last week. So it was a good time to lay on the couch and get a steady diet of Dracula. The movies in this set are:
Horror of Dracula
(1958),
Dracula has Risen From the Grave
(1968),
Taste the Blood of Dracula
(1970) and
Dracula A.D. 1972
(1972). I'm not going to review these in great detail, because four movie reviews would take forever to write. That, and watching four Dracula movies in succession while having a head cold sort of made them blend together.
To be brief.... Strangely,
Horror of Dracula
was my least favorite. I say strangely, because usually the first movie in a series is my favorite. I think the problem here was that I had already read Bram Stoker's
Dracula
. I felt that too much artistic license was being taken in this movie. As in the book, there were characters like Jonathan Harker and Lucy, but major parts of the story had been changed. It wasn't a bad movie, I just wish they would have left the original plot alone.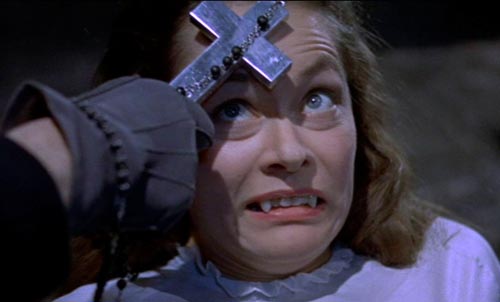 Dracula has Risen From the Grave
had Dracula at his most violent. In all the other movies, he was able to seduce people and put them instantly under his spell. This time he was more frustrated, loud, and willing to slap people. Aside from Dracula's aggression, I enjoyed the movie. It has more religion in the plot, as a Monsignor attempts to exorcise Dracula's castle. There's also a cute little love story between the Monsignor's niece and a local baker.
Taste the Blood of Dracula
was great. I actually cared about the characters in this one. The main plot revolves around a group of sleazy older men who are looking for cheap thrills. One of the meanest sleaze balls has a nice wife and daughter who he more or less keeps locked up and mentally abuses. Meanwhile, he's out visiting a bordello. Go figure. When the bordello is no longer providing enough fun for him and his friends, they decide to dabble in the black arts. This involves "tasting the blood of Dracula". This one is great fun and I liked how the story ended.
Dracula A.D. 1972
... Oh boy. Well, this is the movie that I was most looking forward to in the DVD set. After watching the trailer, I had low expectations but in the very best of ways. Meaning, I expected a cheese fest. It was actually pretty good! The movie was heavy on the silly dance moves, 70's clothing, hilarious lingo, and someone's weird interpretation of hippies. Just great. The basic plot involves the current Van Helsing's granddaughter Jessica, who is hanging around with a bunch of bad seeds. Her friends are sassy swinging kids, who party hard and think it would be fun to play around with Satanic rites. Of course, this does not go well.
(Jessica Van Helsing and her groovy hairdo)
Overall, Hammer movies have a definite style to them. I like the way the movies are filmed, sometimes at weird angles, or looking through trees and windows. There are shadows everywhere and great uses of light. One of my two complaints is that the fake blood could use a little work. It looked like bright red paint, red velvet cake batter, or ketchup. That and the blood seriously never dried! It could be days after the blood was spilled and it would still be sitting in the same neon red, unrealistic pool.
My one other complaint is that Christopher Lee didn't have many lines in these films. I was joking the other day about how he didn't even need to speak English to play this role. He has such an amazing voice too! Here's a little sample of his voice in an old interview from the 1980s. I always like to watch interviews with the actors who played Horror movie villains. It's fun to listen to them just being nice, normal people.
If you're wondering what Christopher Lee is up to nowadays, then this next video will answer that for you! At the age of 89, he is adventurously trying out something called "Symphonic Metal" music. You have to admire that!